INNER BOX

Model

C-N1-EU

Single package weight

51G

Color

WHITE

Quantity

100 PCS

Weight

N.W:5.1KG  G.W: 5.8KG

Box size

34..5×26×40CM

OUTER BOX

Packing specifications

100×2

Color

WHITE

Total Quantity

200pcs

Weight

N.W:11.6KG  G.W:12.8KG

Quter Box Size

54.5×36×42.5cm
1.The charger supports charging of mobile phones/tablets/headphones of various brands such as Apple, Huawei, Xiaomi, OPPO, etc., with a wide range of practicability, and two devices can be quickly charged at the same time. More convenient, dual-port charging, support simultaneous charging of two devices, charging without queuing.
2.The maximum output of the charger's dual ports is 5V/2.1A (10W). When the dual ports are charged at the same time, the output voltage, current and power are intelligently adjusted, and the fast charging does not slow down. The output current of each port will be intelligently matched according to the charged device. The built-in safety protocol keeps your charging in a safe state.
3.Intelligent identification of different mobile phone charging communication protocols, matching the appropriate current for different mobile phones, safe and efficient, ABS+PC high temperature flame retardant fireproof shell, durable, wear-resistant, drop-resistant and high-temperature resistant, safer to use.  Try to avoid collisions or bumps, but even if there is a collision, our charger case has been tested to prove that the quality of the case is very good.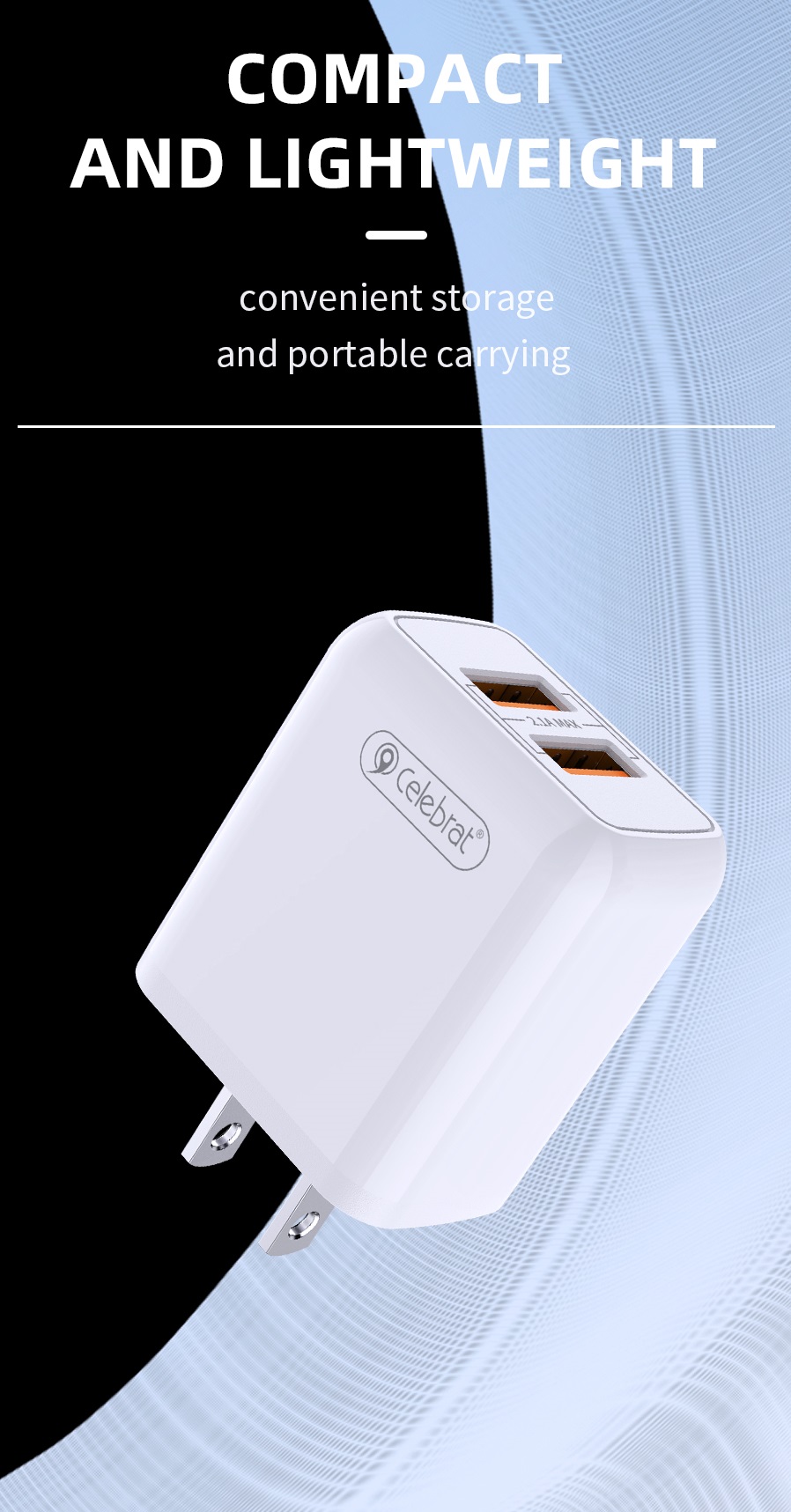 4.Multiple safety protections, using fire retardant materials to actively filter hazards Over current protection Over voltage protection Over temperature protection Short circuit protection Overshoot protection Overheat protection Power protection.
5.Synchronous rectifier chip, effective temperature control, no heat when charging, adjust the power to reduce the temperature when the temperature is too high, to ensure long-term stable operation
6.Wide range of voltage, universal, suitable for AC100-240V power supply voltage input, fast charging for business trips
"Portable and compact, easy to travel"
7.The PC fireproof shell adopts the surface frosted treatment process, which is fashionable and beautiful, and durable. With texture, not easy to scratch, the overall design is simple, exquisite workmanship